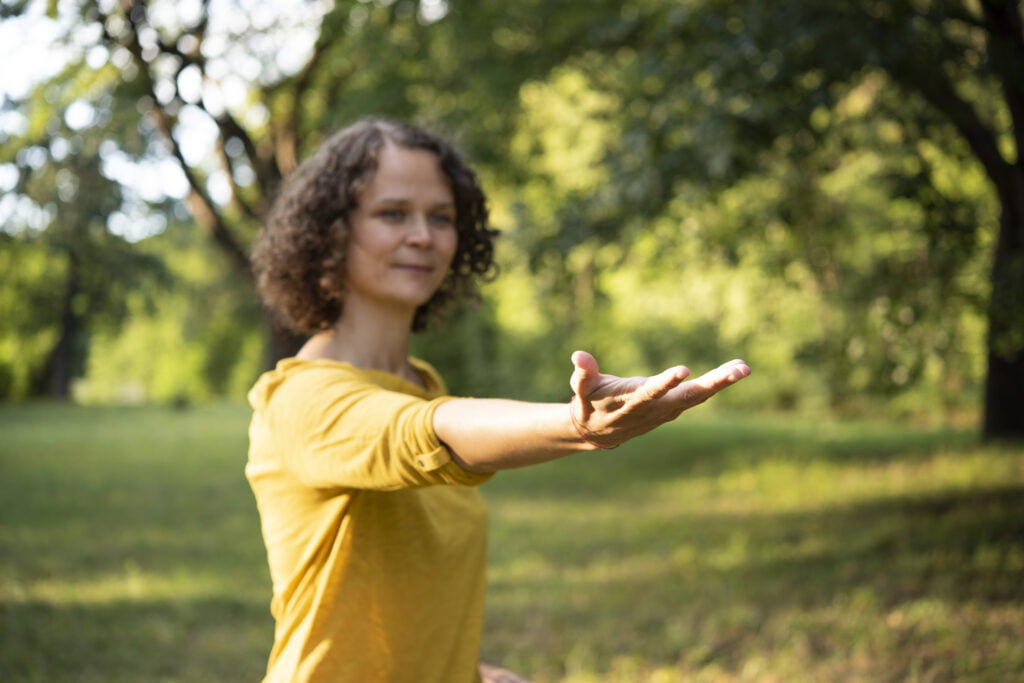 Qi Gong & mindfulness meditation
---
Let the Qi flow
This course will combine mindful sitting and walking meditation with 5 elements Qi Gong exercises in motion. In this combination of calm and gentle movement, we'll promote a refined feeling for the body, the breath, the thought and emotion processes, as well as inner and outer stability. Course in English – if requested a german translation can be provided.
In diesem Kurs verbinden wir Achtsamkeitsmeditation im Sitzen und im Gehen mit Qi Gong-Übungen zu den 5 Elementen in Bewegung. In dieser Verbindung aus Ruhe und sanfter Bewegung fördern wir ein verfeinertes Gefühl für den Körper, den Atem und die Gedanken- und Gefühlsprozesse, sowie innere und äußere Stabilität. Interessierte mit und ohne Vorkenntnissen sind herzlich willkommen. Kurseinheiten je nach Bedarf in englischer oder deutscher Sprache. Einstieg ist jederzeit möglich!
Course content
Qi Gong exercises in motion
Mindful meditation in sitting and walking
Body scan
Self-massage and acupressure
Your benefits
Finding stability, grounding and rooting
Feel "at ease" with yourself
Learning to anchor and develop stability in the present moment
Enjoying "me-time"
Reduce the feeling of tension and find peace
Improve body perception and feel more agile
Become aware of the stress-exacerbating thoughts and learn a new way to deal with them
Get to know meditative exercises both in silence and in motion and use them for yourself in everyday life
Develop a mindful and self-sustaining attitude – for greater ease and enjoyability in everyday life
Meet and exchange with other people
Interested persons with and without previous knowledge are welcome. In addition to curiosity and a spirit of research, please bring comfortable clothes. Mats, seat cushions, blankets are available on site.
Dates: Every Monday 18/09/2023 – 18/12/2023, 4 – 5 pm, 11x (no course on 9/10/2023, 20/11/2023, 04/12/2023) – you can join at any time
Course location:  Studio G39 Grundsteingasse 39, 1160 Vienna (close to the Thaliastraße, Brunnengasse and Yppenplatz – U6 Thaliastraße or tram line 46 Thaliastraße/Brunnengasse, 3 min. walk)
Price: € 18 per session
Further information & registration
Via telephone: +43 699 117 26 777 or e-mail: eva@runterschalten.at