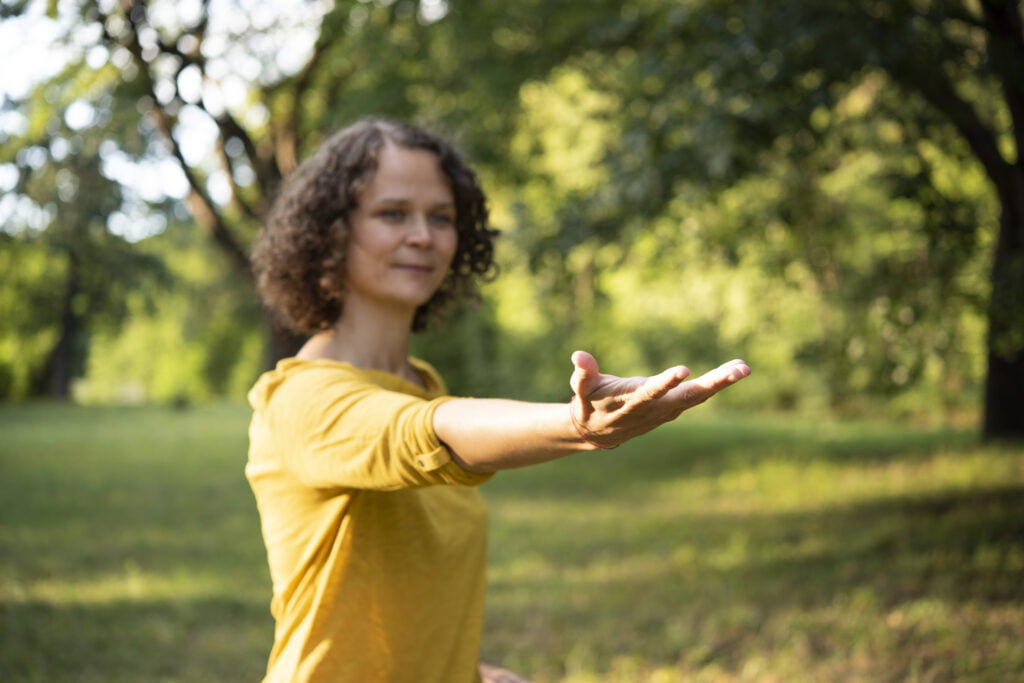 Qi Gong & mindfulness meditation
---
---
Let the Qi flow
This course will combine mindful sitting and walking meditation with 5 elements Qi Gong exercises in motion. In this combination of calm and gentle movement, we'll promote a refined feeling for the body, the breath, the thought and emotion processes, as well as inner and outer stability.
---
Course content
Qi Gong exercises in motion
Mindful meditation in sitting and walking
Body scan
Self-massage and acupressure
Your benefits
Finding stability, grounding and rooting
Feel "at ease" with yourself
Learning to anchor and develop stability in the present moment
Enjoying "me-time"
Reduce the feeling of tension and find peace
Improve body perception and feel more agile
Become aware of the stress-exacerbating thoughts and learn a new way to deal with them
Get to know meditative exercises both in silence and in motion and use them for yourself in everyday life
Develop a mindful and self-sustaining attitude – for greater ease and enjoyability in everyday life
Meet and exchange with other people
Course in English – if requested a german translation can be provided. Interested persons with and without previous knowledge are welcome. In addition to curiosity and a spirit of research, please bring comfortable clothes. Mats, seat cushions, blankets are available on site.
Dates: Every Monday 18/09/2023 – 18/12/2023, 4 – 5 pm, 11x (no course on 9/10/2023, 20/11/2023, 04/12/2023)
Course location: Studio G39 Grundsteingasse 39, 1160 Vienna (close to the Thaliastraße, Brunnengasse and Yppenplatz – U6 Thaliastraße or tram line 46 Thaliastraße/Brunnengasse, 3 min. walk)
Price: € 165 entire course, € 18 single session
Further information & registration
Via telephone: +43 699 117 26 777 or e-mail: eva@runterschalten.at